This is not one of those small prints on a contract or a 30 page terms of use that people never read. There's still a lot of text but hopefully it's easier to read and understand than your average user data texts.
If you have questions, we're happy to help!
Voluntary participation
Participation in the Hoxhunt training simulation is always voluntary unless your organization policy states otherwise.
Want to stay in the training but be anonymous?
That's also possible. Please check this KB article on how to set yourself into Anonymous Mode in Hoxhunt.
How to opt-out
Please refer to our Unsubscribe page for information on opting out.
What information do we collect
We collect user information from a few different sources including information provided to us by your organization, third parties and information collected by our application and add-in. We might also ask you for information.
The below list includes information we collect:
Name
Email address
Links to your profiles available on social networking sites
Statistical data
Equipment you use to access our service
Computer operating system
IP Address
Access times
Browser type
Language
Timezone
Browser plugins
Device manufacturer
Referring website addresses
Location
Emails you have reported (if your organization shares this information with Hoxhunt)
Want to see what information about you is available on the internet?
Want to see if your email address has been compromised in a data breach?
How do we use your information
The only reason why we collect information is to make sure you have the best experience while using Hoxhunt and to make sure we are able to provide the best possible service to your organization.
Did you know that hackers will use your information in any way they want? That's why Hoxhunt will from time to time use your name in some simulated emails. You might also receive simulated emails that are disguised to come from your colleagues.
We only use names of those people in your organization who are found in our service. User names are picked completely randomly (unless defined in organization's context; HR person and CEO).
The below list show what we use your information for
Create accounts and allow you to use the service
Present Hoxhunt to you
Operate and improve our service for you
Send you simulated emails
Make simulated emails more personalized the same way a hacker would do
Understand you and your preferences to enhance your experience and enjoyment using Hoxhunt
Give you personalized customer support
Send you related information
Analyse user trends and provide reporting for your organization
Send you rewards
Notify about changes to Hoxhunt
Here's an example of how we might use your user data in simulated emails: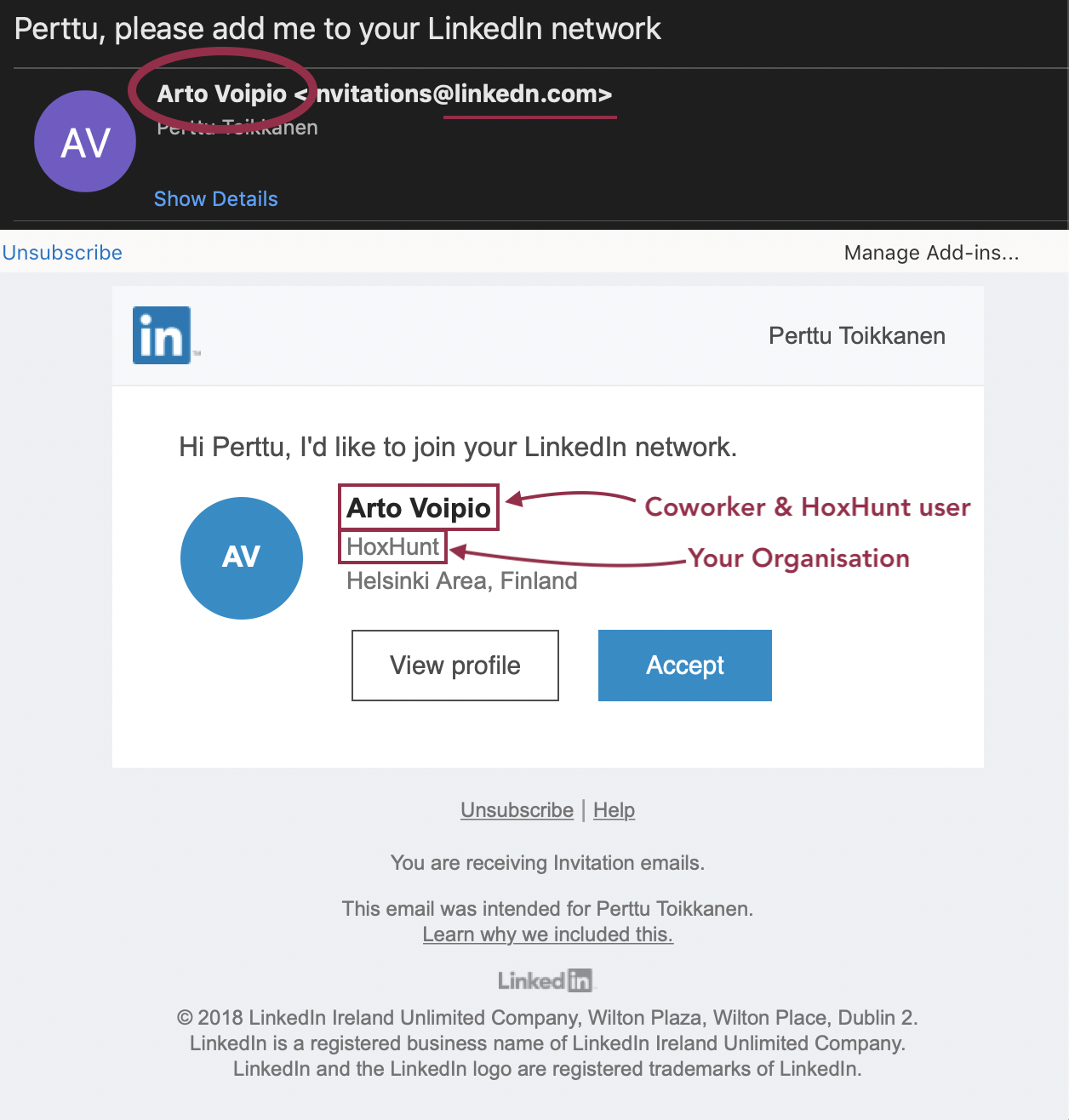 How long is user information stored
User information is stored for the duration of the Hoxhunt training. We completely respect your privacy and continuously remove any outdated or unnecessary data.
Data Processing Agreements (DPAs)
Hoxhunt has signed DPAs with all customers and third parties. This means that we are strongly invested in keeping your information safe and will follow defined protocol if for some reason your information is compromised.
If you want to learn more about DPAs, check out the below site:
https://gdpr.eu/data-processing-agreement/
If you have any questions regarding your information or anything else in this text, please get in touch with us through chat or support@hoxhunt.com.