Hoxhunt button is missing from my Gmail (native Gmail add-on)
Locate the arrow in the bottom-right corner of your Gmail screen.
Click it to open the side panel. Hoxhunt button should now be visible.
Hoxhunt button is missing from my Gmail (Chrome extension)
Important: Hoxhunt Chrome extension has been deprecated.
Important: Using Hoxhunt Chrome extension in Gmail requires Chrome web browser.
You are not logged in Chrome with your enterprise account
Make sure you have logged in to both Chrome and Gmail with the same account.
Chrome Browser Sync is turned off
Make sure you have Browser Sync enabled.
Hoxhunt browser extension has been hidden
Hoxhunt button (extension) may have been hidden from the Chrome toolbar. Please check Manage Extensions > Arrange on your toolbar in this Google article on how to unhide extensions.
Check chrome://extensions/ and see if Hoxhunt extension is listed. Make sure it's active (blue slider).
You are in Incognito Mode
Make sure you are not in Incognito mode.
Spam and suspicious messages can't be used for recommended content or actions. Try searching for messages in your inbox.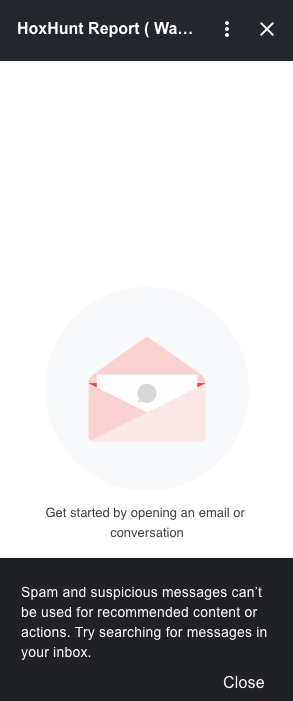 This error occurs when Google has already categorized the email as spam or suspicious. You may also see an orange or red warning banner on top of the email.
When the suspicious email is not one of Hoxhunt's training emails, please follow your company's guidelines how to report the email to your Security team.
If you spot the email to be one of Hoxhunt's training email, there's no way for you to report it to Hoxhunt. In case this happens, try the following:
Make sure the email is not in your Spam folder when you are reporting it.
Check the email's headers (source) and provide them to Hoxhunt Support (support@hoxhunt.com) along with a screenshot of the complete email view (including any banners and the error message).
Avoid using Gmail's native Report phishing and Report spam options, as you may report a Hoxhunt training email by mistake.
NOTE: Despite best efforts, Google may sometimes disregard bypass rules made for Hoxhunt training emails. To our experience, the results vary even between employees within the same company.
Hoxhunt Support can re-send the training email to you in hopes it will then be reportable.
Oh snap! Error [object Object]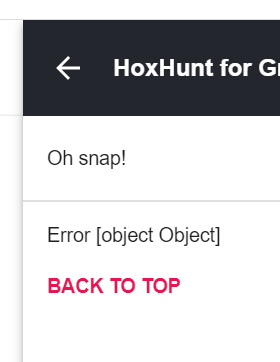 This error can occur in few scenarios when user is trying to report a Hoxhunt training email:
user's name and email address has changed, causing a duplicate user account to be created in Hoxhunt.

user is reporting a Hoxhunt training email that was originally sent to another user.

user is reporting a Hoxhunt training email that has been removed from Hoxhunt side.
Contact Hoxhunt Support for assistance and refer to this KB article.
Oh snap! Error Authentication failed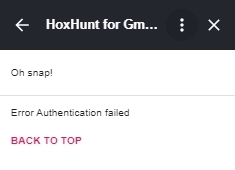 This is a fairly rare error. If it occurs, it occurs every time when you try to use Hoxhunt.
We don't have a solution available at this time. Nevertheless, contact Hoxhunt Support and refer to this KB article.