Distributed installation of an Office 365 Outlook Plugin
1. Open Office 365 Admin Center. Click Admin center. Select Exchange.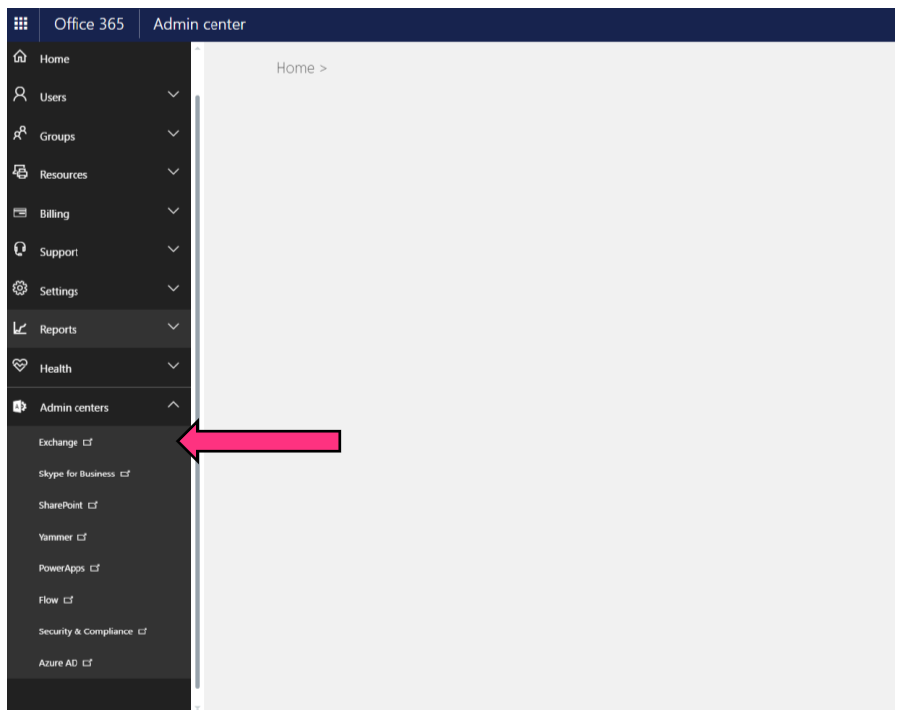 2. From the Exchange admin center dashboard, under organization section, select add-ins.

3. Click the "+ icon", click Add from URL.

4. Enter https://officejs.hoxhunt.com/api/v1/manifest/default/manifest.xml, and click install.

5. Check the "Make this add-in available to users in your organization", select "Optional, disabled by default", and click Save.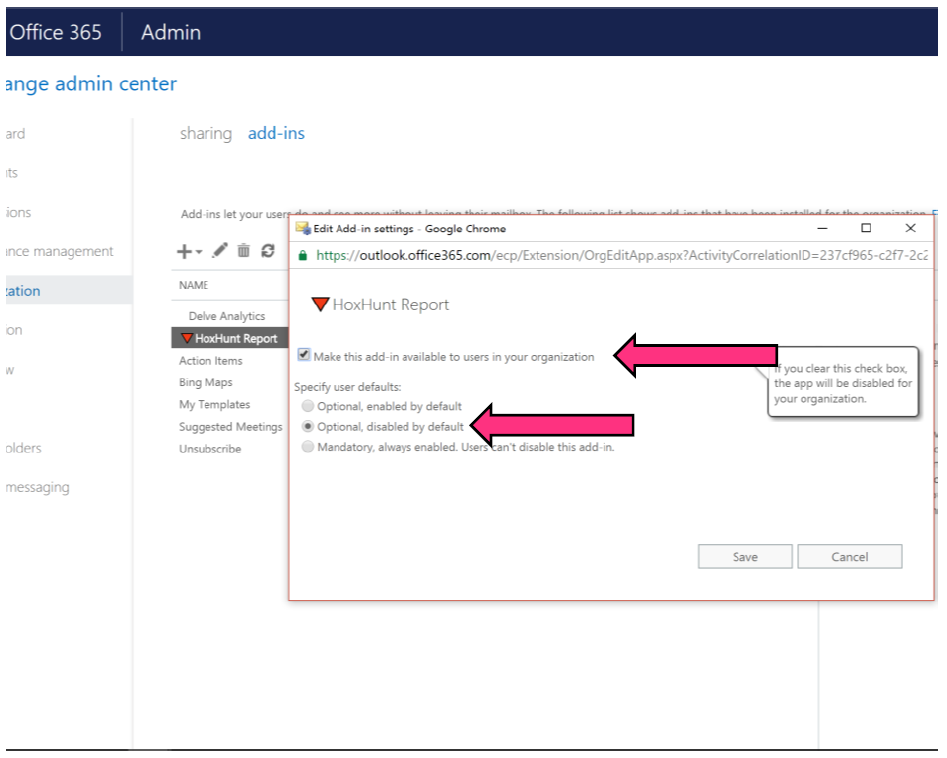 Distributed install with Exchange Online Powershell

Distributed plugin installations to Outlook differs from distributed installation of other Office 365 Add-ins. A distributed installation can be done with Exchange Powershell.

Connecting to Exchange Online Powershell is described below. (Guide reference https://technet.microsoft.com/en-us/library/jj984289(v=exchg.160).aspx)
You have to disable your admin accounts two factor authentication to be able to connect to Exchange Online. Remember to put it back on in the end. (Microsoft was working on this on 2015 and enabled 2FA support for connecting to Microsoft Online but Exchange is an outlier https://blogs.technet.microsoft.com/enterprisemobility/2015/10/20/azure-ad-powershell-public-preview-of-support-for-azure-mfa-new-device-management-commands/ )

1. Open Powershell with "Run as administrator"
2. Enable Powershell to run signed scripts, run the command:
Set-ExecutionPolicy RemoteSigned

3. Enter admin account username and password by running command:
$UserCredential = Get-Credential

4. Setup a connection to Exchange online, run command:

$Session = New-PSSession -ConfigurationName Microsoft.Exchange -ConnectionUri https://outlook.office365.com/powershell-liveid/ -Credential $UserCredential -Authentication Basic -AllowRedirection

5. Open the connection to Exchange Online, run command:
Import-PSSession $Session

6. You should be connected now, you can test it by running a command Get-Mailbox to test the connection.

7. Create a distribution group including all the pilot users, you can name it anyway you like, in the example we use the name HoxHunt_UserGroup. After the -Members flag enter a comma separated list of the pilot users email addresses. Change the parameters and run the New-DistributionGroup command:
New-DistributionGroup -Name "HoxHunt_UserGroup" -Members pasi.salo@hoxhunt.com,karri.kurunmaki@hoxhunt.com,mika.aalto@hoxhunt.com

8. Save the users of the distribution group in a variable, run command where you use the same name for the distribution group you did in the previous step, in the example it is HoxHunt_UserGroup:

$users= Get-DistributionGroupMember HoxHunt_UserGroup
9. Running the command Set-App enables an Office 365 plugin for a set of users. To enable it for the pilot group, run the command:

Set-App -OrganizationApp -Identity 41f6a6f2-f271-4d8a-8508-26ded39437af -ProvidedTo SpecificUsers -UserList $users.Identity -DefaultStateForUser Enabled

Now the plugin should become visible for the users. You are almost done, now re-enable your accounts two factor authentication.
10. REMEMBER TO RE-ENABLE YOUR ADMIN ACCOUNT TWOFACTOR AUTHENTICATION! (IMPORTANT!)
References:
Connect to Exchange Online PowerShell https://technet.microsoft.com/en-us/library/jj984289(v=exchg.160).aspx
Set-App command reference https://technet.microsoft.com/en-us/library/jj218630(v=exchg.160).aspx