Introduction
Hoxhunt builds a unique learning path just for you, read more here: How Hoxhunt builds a unique training path for you. In this article we walk you through what you can expect from your training path in different stages of the Phishing Training.
How the Hoxhunt Phishing Training progresses
The Hoxhunt training starts with a bootcamp
At the start of the Hoxhunt training, Hoxhunt's training engine evaluates your phishing awareness skill levels during the first 4 standardized training emails / simulations. This way we are able to personalize your training path to fit more specifically to your skill level in the future.
Hoxhunt rewards you with stars and achievements
As you start your training journey, Hoxhunt rewards you with stars and achievements so you can track your progress in the training. Read more here:
Collecting Stars in the Hoxhunt Training
Collecting Achievements in the Hoxhunt Training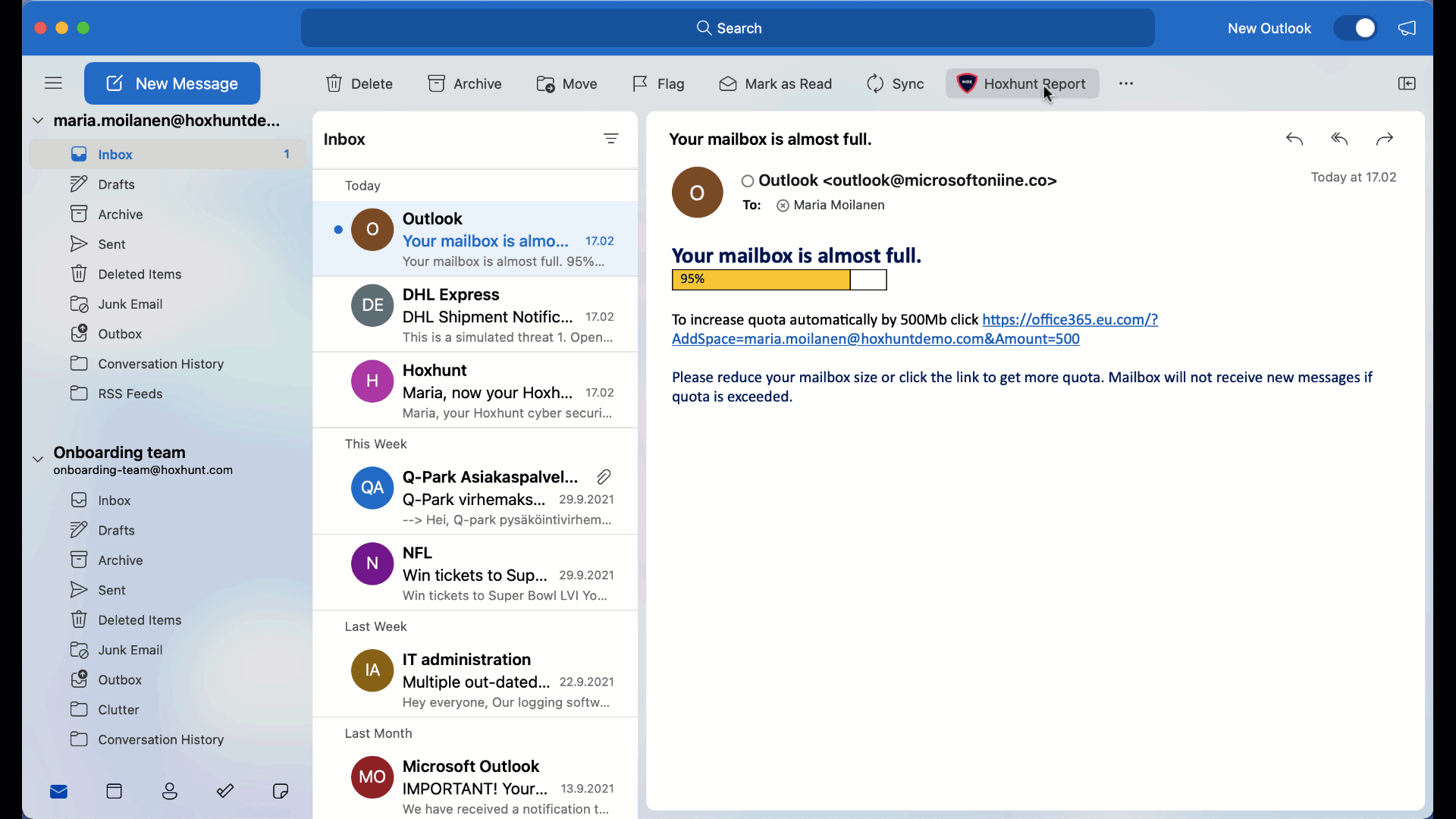 Hoxhunt starts building your unique training path
After this our personalized training kicks in, sending you varied simulations based on categories, difficulty level and your languages to help you in your journey becoming more phishing aware. The idea of the training is to make you succeed, while still providing challenge to make sure you're getting educated on the latest threat types out in the wild.
How Hoxhunt builds a unique training path for you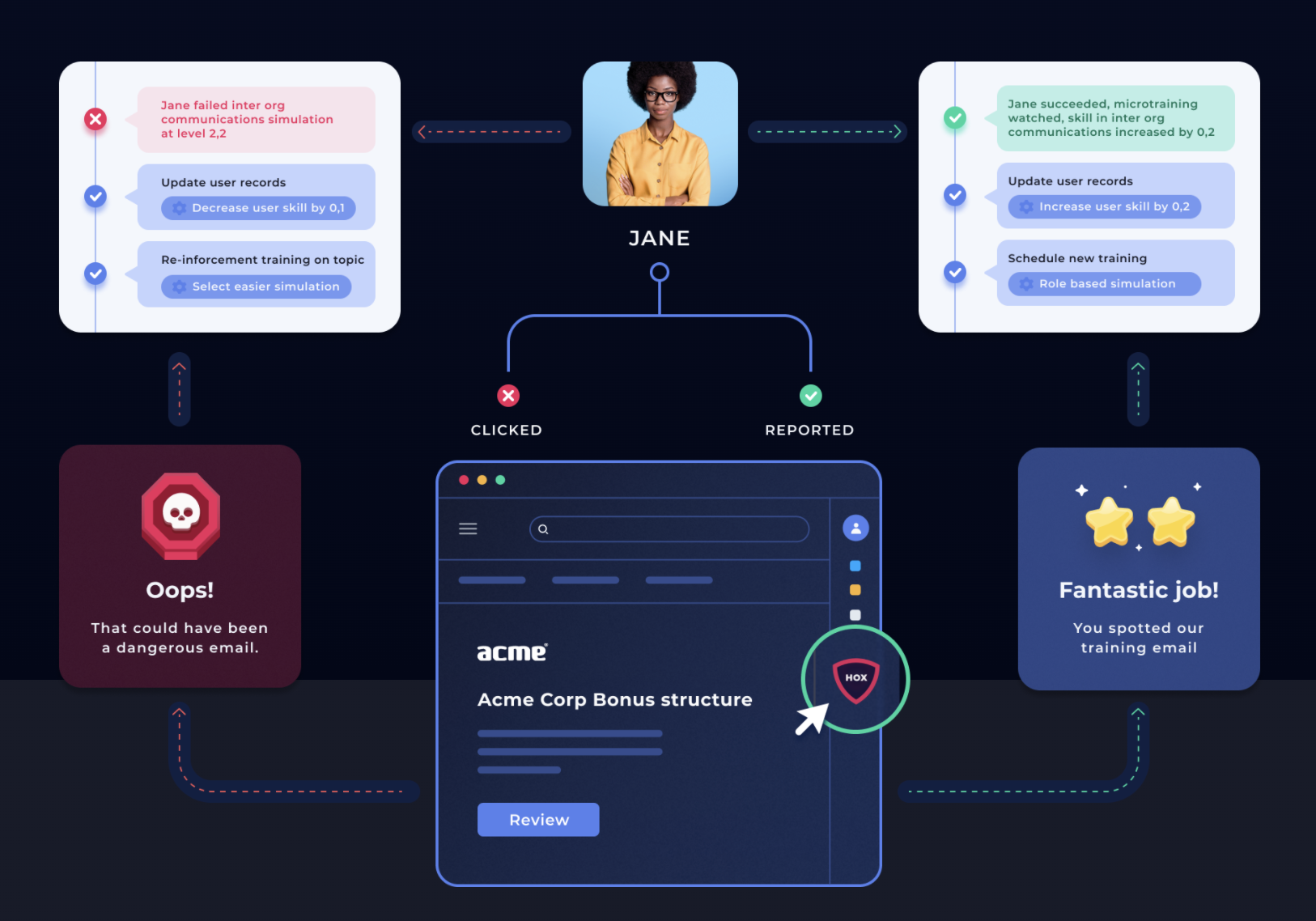 Hoxhunt expands your training through Job Function-based training
After you have progressed to successfully reported at least 5 training simulations, Hoxhunt training offers you further training personalization by giving you an option to enable your Job Function -based training. Learn more about it here.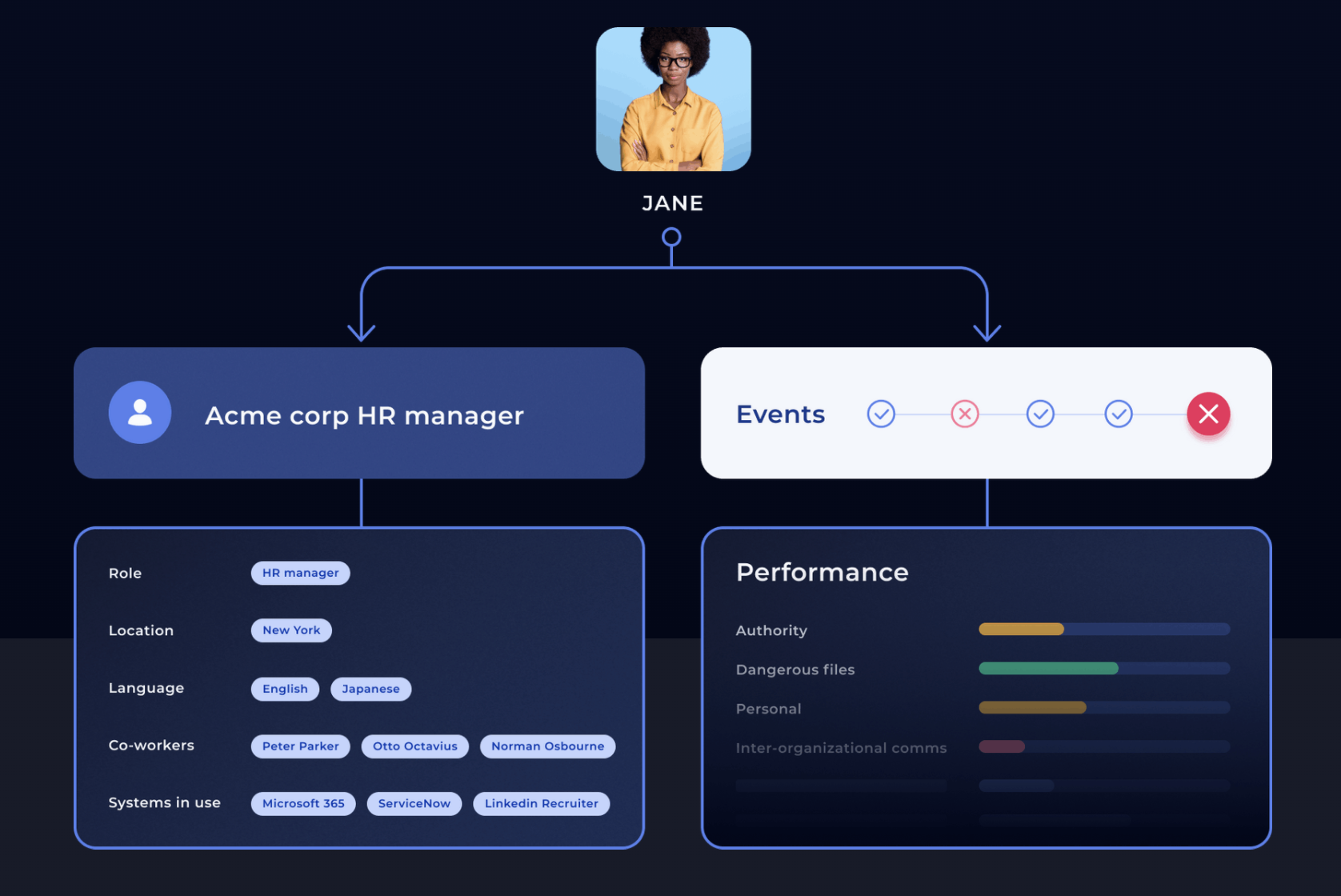 Hoxhunt rewards you with Shields
You will notice soon after that as you further progress in the training, you get to start collecting Hoxhunt Shields, which give insights into the protection you provide to your organisation as you keep on progressing in the training.
Tracking training progress with Shields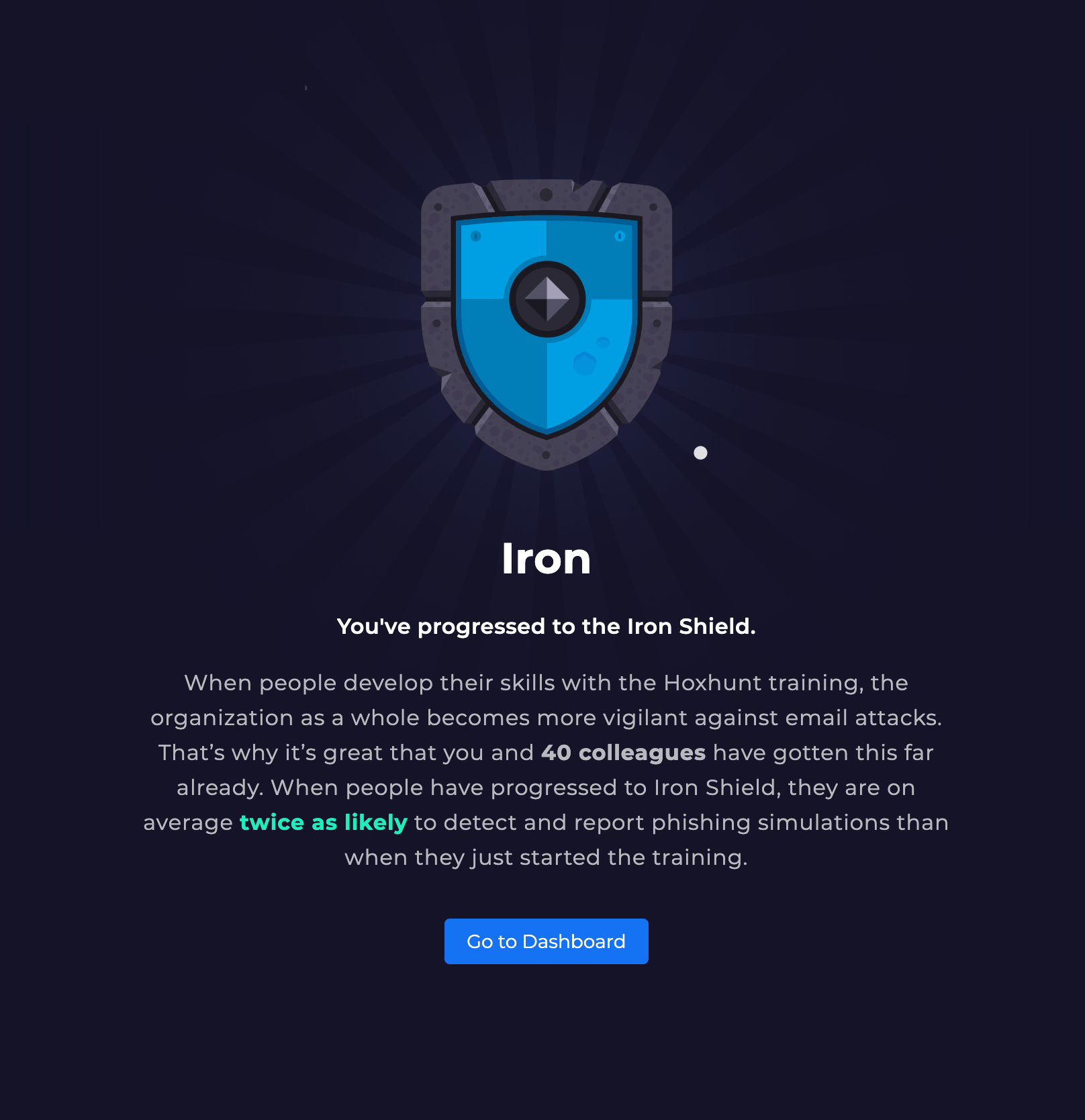 Hoxhunt allows you to challenge yourself with Spicy Mode
You Hoxhunt training will gradually be getting more challenging based on your performance in the training. If you still feel like you would like an extra challenge, Spicy Mode might be for you. Spicy Mode gives you an access to more shameless reality of threats seen out in the wild.
Profile page: Turn on Spicy Mode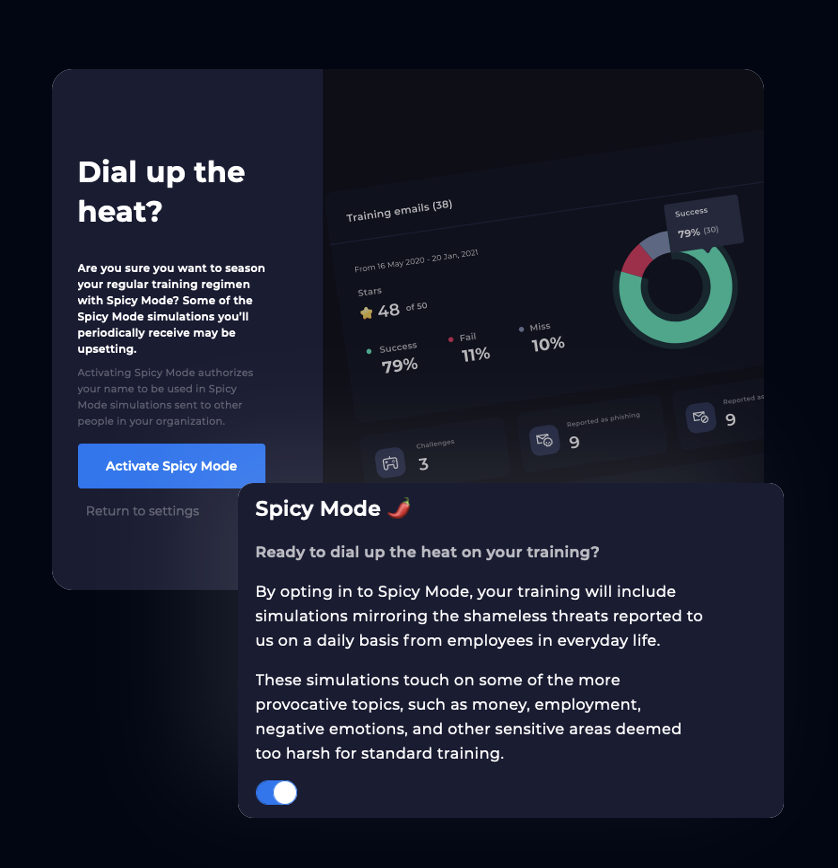 How can I follow my progress?
Follow your Hoxhunt training progress on your personal Hoxhunt dashboard at http://game.hoxhunt.com.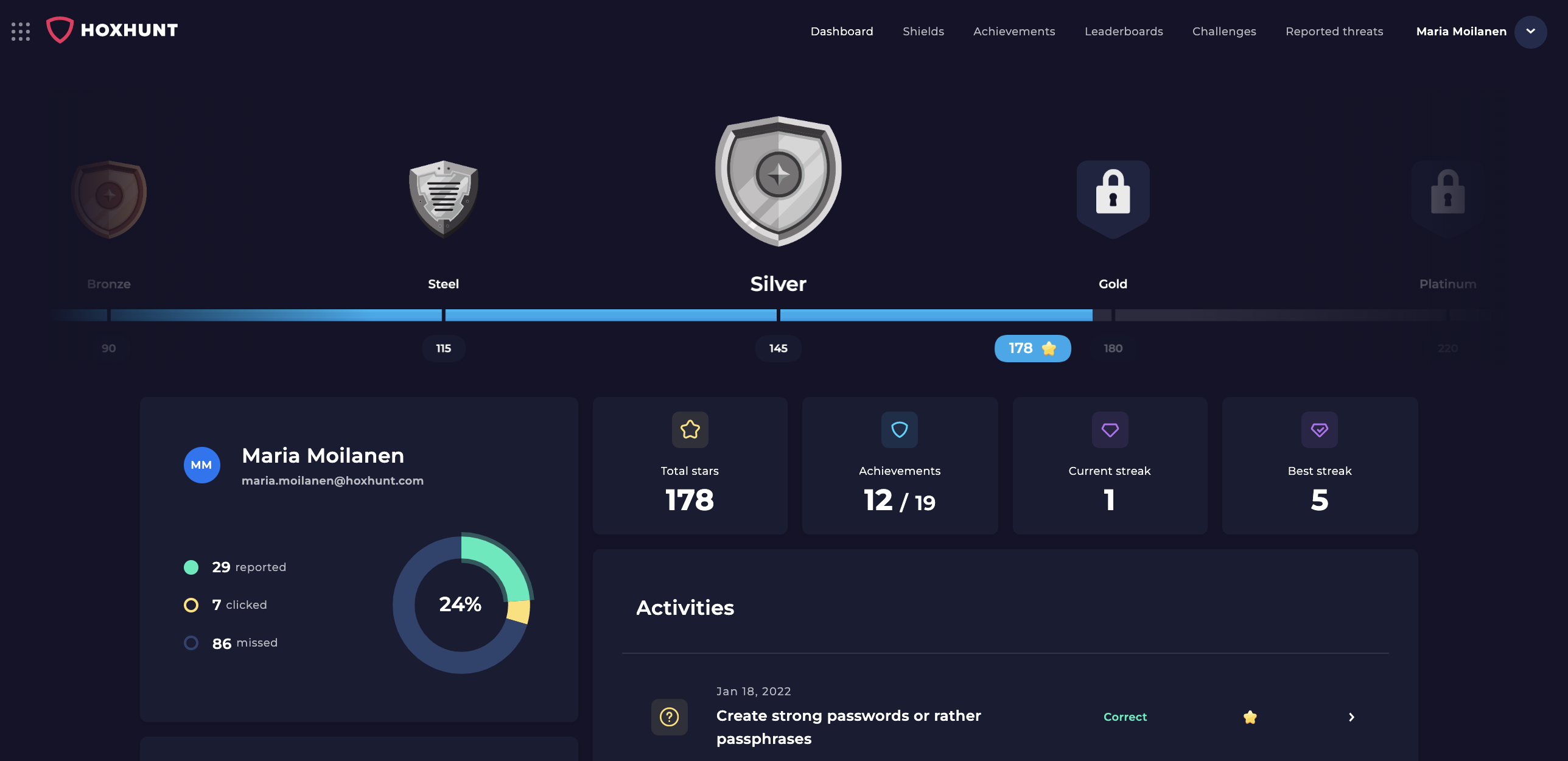 There you can find your:
Training results and stars earned

Training history and content under Activities – Psst! This is where you can review missed microtrainings for extra stars!

Training progress in terms of Hoxhunt Shields and Hoxhunt Achievements

Your Profile Page where you can adjust your preferences and settings. Read more: Profile Page and Preferences Overview
Read more: Hoxhunt Dashboard Overview
Questions?
If you have any questions about the Hoxhunt training, please don't hesitate to reach out to our support team at support@hoxhunt.com