Overview
Sometimes you might get an error after clicking Hoxhunt button. This error is visible in the side window that opens when you report an email. Most errors are temporary so it's a good idea to try again after a while.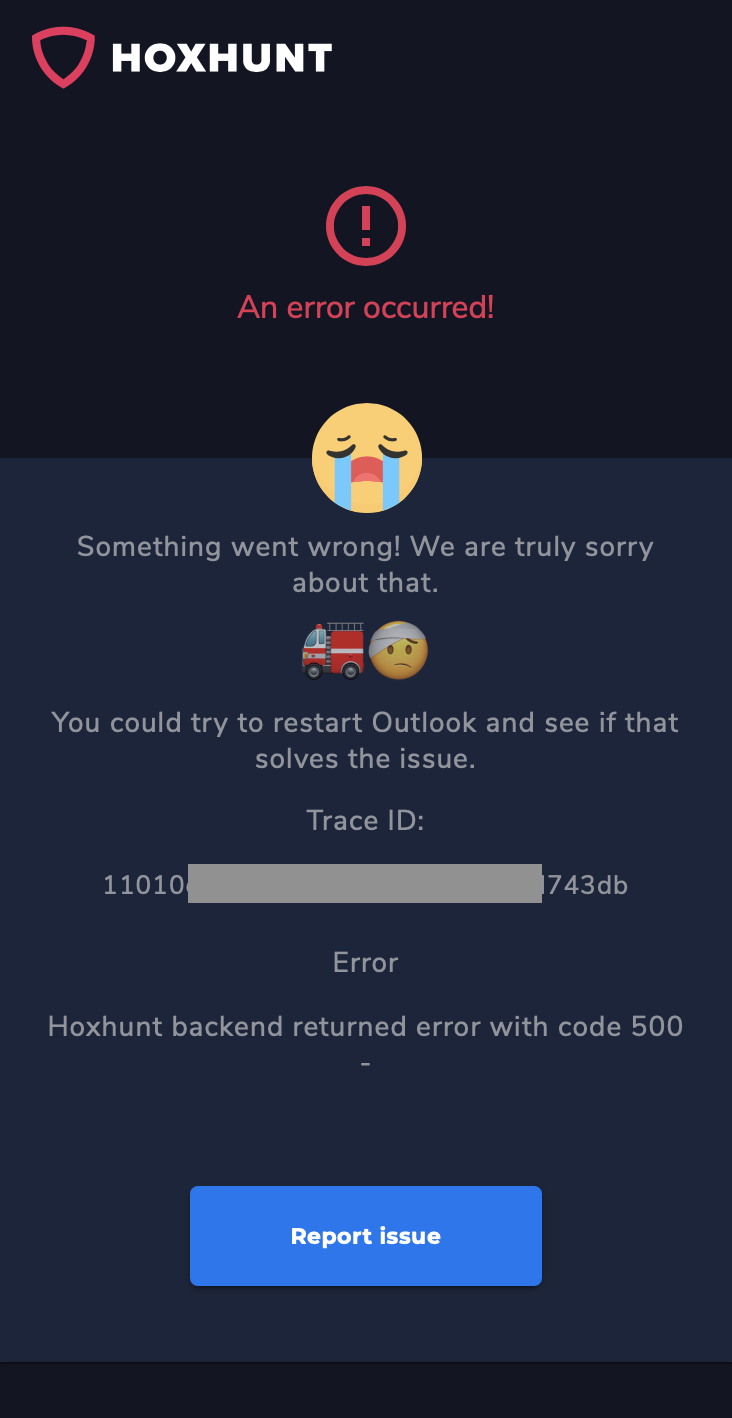 Temporary workarounds
To make sure you are able to report Hoxhunt simulations despite the error code, it's a good idea to try Hoxhunt add-in with different Outlook clients like OWA (Web Outlook) and mobile devices (Outlook for iOS/Android), and with different network connections.
If you find a workaround that lets you to use Hoxhunt again, you can then troubleshoot the issue together with your IT team or Hoxhunt Support without having to worry about missing your training emails because of the problem.
IMPORTANT: Whenever you are unable to report a suspicious emails via Hoxhunt button, always follow your company's internal security guidelines on how to report a suspicious email to your Security team in such situation. Usually you are instructed to forward the email to a certain security email address.
How to report an issue to Hoxhunt
You can report about a problem to Hoxhunt Support in two ways:
A) MAJOR ISSUE - often prevents me from using Hoxhunt, and it doesn't seem temporary
1. Click on Error details.
2. Copy the Trace ID and Error Details to clipboard.
3. Create a support ticket and include the above details in your ticket.
TIP: You can also send the error details by email to support@hoxhunt.com.
B) MINOR ISSUE - an error occurs intermittently and doesn't prevent me from using Hoxhunt in most cases
Please follow steps in this article: Sending a crash report to Hoxhunt
Common error codes
Error 401: You may be reporting an email from a mailbox that is not authorised to report emails. Hoxhunt is missing either your email domain or mail server address for your organization. Please contact Hoxhunt Support to resolve the error.
Error 403: You are not allowed to perform the requested operation. Please make sure your VPN client or proxy isn't blocking access to any hoxhunt.com sub-domains.
Error 500: Something went wrong during the reporting process. This is a generic connection error. It is often temporary, so please wait a moment before trying again. If error persists, please contact Hoxhunt Support.
NOTE: If you receive this error while reporting from shared mailbox, please refer to this article.
Error 524: This timeout error is often temporary, so please wait a moment before trying again. This can also be caused by a networking change in your organization. If the error continues, please contact Hoxhunt Support.
Network request failed - This is a generic error message when something is blocking communication or Hoxhunt service is temporarily unreachable.

First try Hoxhunt button with and without VPN/proxy client to see if there's any difference. In some environments, when you use Hoxhunt add-in your Outlook client must have access to your Exchange Web Services. If these services are not accessible outside your corporate network, Hoxhunt add-in may not work properly. Please check which connection setup works best with Hoxhunt.
Try accessing https://api.hoxhunt.com/graphql

with your regular web browser. Expected result:

GET query missing.

If result is something else, check the error for details.

Make sure

*.hoxhunt.com is added to Trusted sites under Internet Options.
It can also happen if Internet Options > Security > Internet / Restricted Sites / Trusted Sites > Custom level... > Miscellaneous > Access data sources across domains

is not enabled. Enable the setting zone by zone until the error goes away.

If the error persists after changing your connection type/location, please contact Hoxhunt Support.

Failed to fetch: Your connection to Hoxhunt service is temporarily offline. You also may not be able to access your Hoxhunt Dashboard via https://game.hoxhunt.com/.
Less common error codes
NetworkError: The user is no longer connected to the network. Please check your network connection and try again. - This is a known bug in Outlook, and it can affect users whose mailbox is located on an on-premise Exchange server.

If you are on Current Channel, please update your Outlook to version 2014 (build 13929.20296) or later
If you are on Monthly Enterprise Channel, please update your Outlook to version 2104 (build 13929.20408) or later
If you are on Semi-Annual Enterprise Channel, please update your Outlook to 2102 (build 13801.20808) or later

Technical details of the bug are available here.