Sometimes the ADD-IN ERROR may persist, even after checking all settings according to this article.

DISCLAIMER: This page is based on indirectly deducted, unverified or even hypothetical reasons for persistent ADD-IN ERROR. Please take this into consideration before reading further.

IMPORTANT: This article needs your feedback! Let us know if you agree or disagree with it either by:
UPDATE: Microsoft has acknowledged the issue and they are working on it. Meanwhile they recommend to upgrade to WebView2 (Chromium Edge) and Office version 16.0.13530.20424 or higher.
Read more: https://developer.microsoft.com/en-us/office/blogs/office-add-ins-community-call-february-10-2021/
ADD-IN ERROR
This add-in could not be started. Close this dialog to ignore the problem or click "Restart" to try again.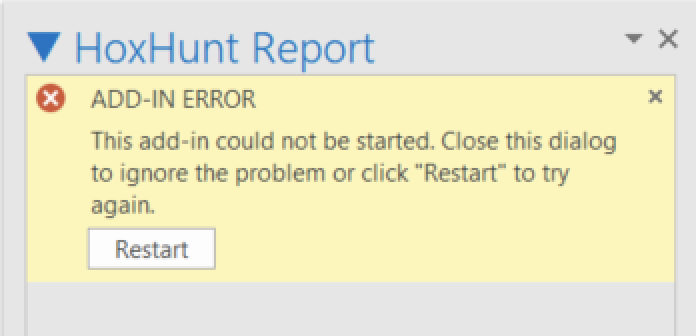 Occurs in: Windows desktop Outlook client (Microsoft 365/MSO/Click-to-Run, Outlook 2016, 2019)
Doesn't occur: Web Outlook (OWA), any web browser
Reference: https://github.com/OfficeDev/office-js/issues/1620
Details: Win32WebViewHost.exe crashes and causes ADD-IN error to appear.
Microsoft has confirmed that this error may be caused by a known issue (#4757066 for internal MS tracking) but hasn't provided further information. Hoxhunt has added to the ticket its hypothesis of the root cause (also below).
Summary of the hypothesis:
Installing Edge Chromium over Legacy Edge corrupts Legacy Edge's runtime engine (Edge HTML, WebView).
AND

User's Office version/build is high enough to use Edge HTML but not high enough to use Edge Chromium (WebView2)
Temporary fix:
Re-build user's Windows profile
Unverified permanent fixes:
Update Office to a version that uses Edge Chromium (16.0.13530.20424 or higher), and install Edge Chromium

*

Upgrade Windows to newer major version/build
* Additionally, you may need to install the Edge WebView2 runtime manually:
"The embeddable WebView2 control must be installed in addition to the installation of Microsoft Edge so that Office can embed it. To install it, see Microsoft Edge WebView2 / Embed web content ... with Microsoft Edge WebView2."
Unfortunately simply re-installing or repairing Office or Edge, or even manually replacing the corrupt files doesn't remedy the issue, as you can see in this article:
https://windows-hexerror.linestarve.com/q/so63090339-Office-apps-is-unable-to-show-Web-Add-ins-taskpane-due-to-a-Win32WebViewHostexe-issue

IMPORTANT: MS Edge Chromium will be installed to practically all Win 10 versions (1803 or later) as part of a Security update in April 2021. Legacy Edge will be automatically uninstalled, however the EdgeHTML engine will stay "intact".
Read more: Which Windows 10 versions will be impacted?
Additional reports of this issue:
You can read similar cases here, where recreating a new Outlook profile / Windows user profile has been the only way to resolve the error: