Overview
Sometimes the Hoxhunt button might appear inactive (greyed out) in Outlook toolbar.

There are few reasons why this happens, so please check the following sub-topics:
Reading pane is not activated
The Hoxhunt button is displayed as inactive (greyed out) in your Outlook inbox if you do not have Reading Pane in use.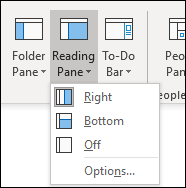 Using the Reading Pane for previewing messages is safe as long as you have the latest updates installed for Outlook, and are following your organization's security guidelines.
Please follow this guide for enabling the Reading Pane in Outlook.
Why can't I report emails without using the Reading Pane?
You can't report emails directly from Inbox list due to technical limitations set by Microsoft. Current technical implementation of Outlook add-ins require the reading pane to be used, or the email to be opened in order for the add-in to activate.
If you don't wish to use the Reading Pane, you must open the email to a separate window for the button to activate. The button will be visible in the top right corner of the Ribbon in your email.
We are closely monitoring future development of Microsoft's Outlook product and its technologies, and we aim to make the reporting experience better for our future users where possible.
Outlook is in Offline mode
Make sure your Outlook is not in offline mode.
Message type is not supported by Outlook add-in technology
Particular type of emails are not compatible with Outlook add-ins. Such types include:
Protected by Information Rights Management (IRM) or encrypted in other ways for protection. A digitally signed message is an example since digital signing relies on one of these mechanisms.

A draft (does not have a sender assigned to it), or in the Outlook Drafts folder.

A .msg or .eml file which is an attachment to another message.

A .msg or .eml file opened from the file system.

In a shared mailbox, in another user's mailbox, in an archive mailbox, or in a public folder.
Please see more information from this article by Microsoft.