Add-in error
Some Outlook users can get an add-in error while using the "Report this email" button. The add-in error will be displayed in a yellow box with the title "ADD-IN ERROR". There are many possible causes for the add-in error to occur, and often they are related to your desktop environment.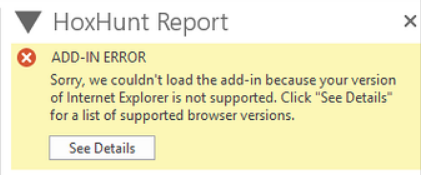 Example of a possible add-in error.
To resolve the add-in error, try the following steps:
Restart Outlook - sometimes the button has not been loaded properly when starting Outlook.
Allow pop-ups if prompted - HoxHunt needs pop-ups allowed in Outlook to open the result page.
Allow add-ins - If your desktop environment has not allowed add-in use, you need to request your administrator to allow them.
Enable Protected Mode + Restart - Security settings inside Internet Explorer may need to be changed

Enabling Protected Mode either via
Internet Explorer > Options > Security or Control Panel > Internet Options > Security.
NOTE: If you have added hoxhunt.com addresses to Trusted sites or Restricted sites, please make sure to Enable Protect Mode for those zones as well.
 Error clicking HoxHunt button
Some users can get an error after clicking the HoxHunt button. This error is visible in the side window that opens when you report and email.
Forward the error to HoxHunt by clicking the "Report Error" button.
Most common errors and resolutions: 

Error 401: This is an Authentication error. Please seek assistance from your IT support team to resolve the error.
Error 500: This is a Connection error. This error is often temporary, please wait a moment before trying again.
Unauthorized action: You are not allowed to report the email. If you try to report from a shared inbox, you need to be logged in with the shared inbox account. If you report an old quest, it may be that your user account was recreated (e.g. between a pilot and a full launch).
Black screen after reporting
This is often caused by a connection issue. A black screen can pop up after reporting with Outlook, or a loading icon is visible in a loop.
To resolve a black screen, try the following:
Restart Outlook.
Check your internet connection (Wifi, VPN) and try reporting again.
If the issue continues, please reach out to HoxHunt support.