Common error messages
Sometimes you might get an error after clicking the HoxHunt button. This error is visible in the side window that opens when you report and email.
Most common errors and resolutions: 
Error 401: This is an Authorisation error. you may be reporting a suspicious email from an account that is not authorised to report emails on behalf of your organisation. Please contact Hoxhunt Support to resolve the error.
Error 500: This is a Connection error. This error is often temporary, please wait a moment before trying again.
Error 524: This is a Timeout error. This error is often temporary, please wait a moment before trying again.
Action is not valid: This is an Authentication error. This can happen if you attempt to report a simulated phishing email from Hoxhunt that was not originally addressed to you.
Examples:
- You have recently changed your name and thus your email address has changed (please contact Hoxhunt support at support@hoxhunt.com for a solution).
- A colleague is forwarding or redirecting his/her emails to your inbox.
Network request failed: This is a Connection error. It can be caused by numerous factors. If the error persists after changing your connection type/location, please contact Hoxhunt Support.
Unauthorized action: You are not allowed to report the email. If you try to report from a shared inbox, you need to be logged in with the shared inbox account. If you were a part of a Pilot group and you try to report an old simulation email, it may be that your user account was recreated. in that case please contact Hoxhunt Support.
If an error persists for few hours and you are unable to report the suspicious email, please forward the error to HoxHunt Support by clicking the "Report Error" button.
Add-in errors
Some Outlook users may receive an add-in error while using the "Report this email" button. The add-in error will be displayed in a yellow box with the title "ADD-IN ERROR". This is often related to your organisation's group policy or security settings.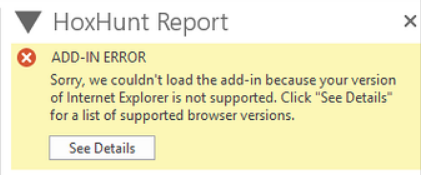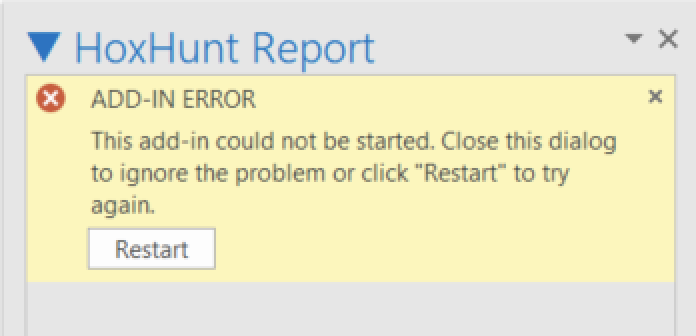 Examples of possible add-in errors.
 To resolve the add-in error, try the following steps:
Add app.hoxhunt.com

and 

officejs.hoxhunt.com to Trusted Sites zone in Internet Options.
Enable Protected Mode for Trusted sites zone.
Enable Protected Mode for Internet zone.
Restart the computer.
Note: Security settings for Internet Explorer may need to be changed by an administrator.
IMPORTANT: If you have added hoxhunt.com addresses to Restricted sites, please make sure to Enable Protect Mode for that zone as well! 
More information: https://docs.microsoft.com/en-us/office/troubleshoot/error-messages/apps-for-office-not-start

Enabling Protected Mode either via
Internet Explorer > Options > Security or Control Panel > Internet Options > Security.
Add-in pane doesn't load properly
For some users, after they click on the Hoxhunt button, the Content pane won't load properly.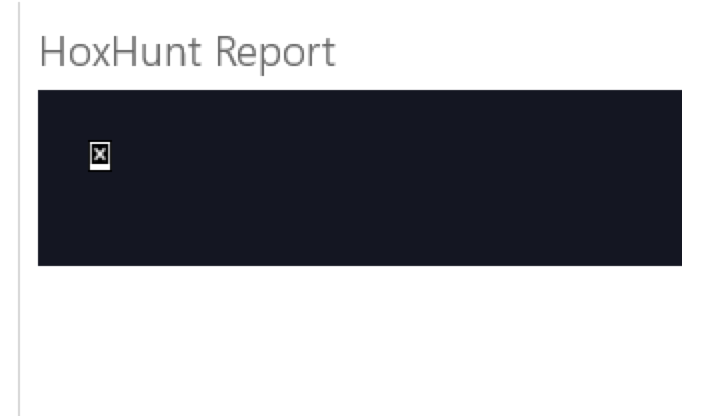 Examples of a possible add-in error.
This issue can be caused by two different IE features: Compatibility View or Enterprise Mode. Please contact your IT team to resolve the issue.
Black or blank screen after reporting
This is often caused by a connection issue. An empty screen can pop up after reporting with Outlook, or a loading icon is visible in a loop.
To resolve a black screen, try one of the following:
Refresh the pop up window by pressing F5 or Ctrl+R (Command+R on a Mac).
Restart Outlook.
Check your internet connection (Wifi, VPN) and try reporting again.
If the issue continues, please reach out to HoxHunt support.